Pakistani men's and boys clothing include a wide variety of ethnic outfits, which fit in with the general styles found in the Indian subcontinent but at the same time differ in a few small but significant details that set them apart. Men's Pakistani clothes are those menswear garments that have developed in this particular region and reflect the traditions and culture of the place in every aspect, from the textiles used to the kinds of embroidery and designs displayed.
For Pakistani men and boys, traditional clothing typically includes options like kurta pajamas, sherwanis and Pathani suits. There is a lot of overlap with Indian styles since both these regions share a common history; both countries have a strong Mughal influence in their traditional dress styles.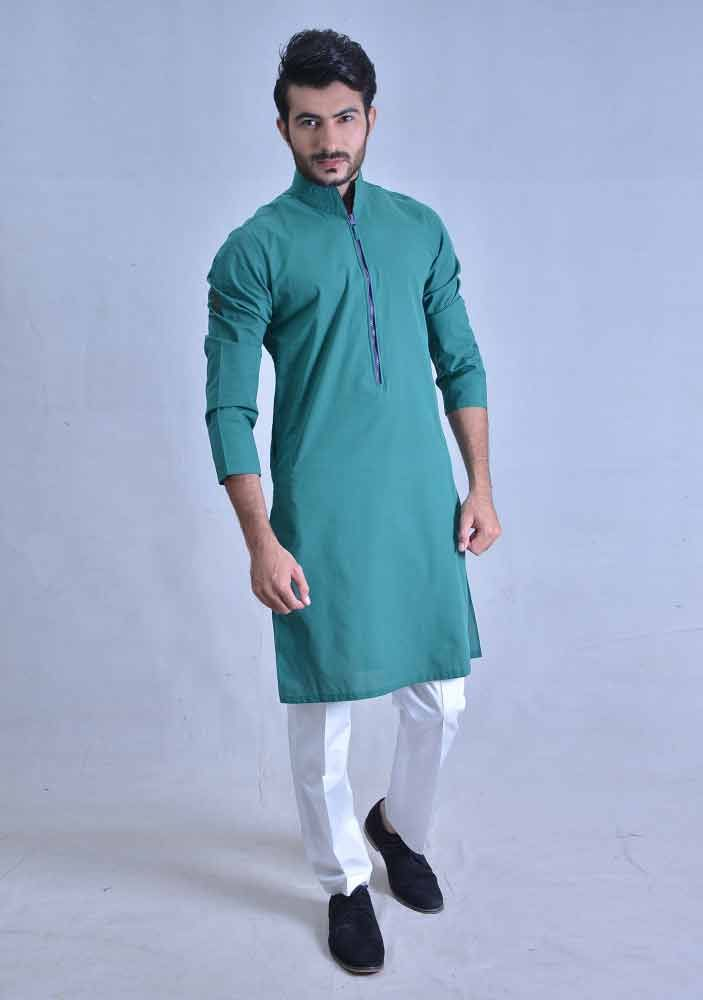 Pakistani men and Boys Shalwar Kameez
What sets Pakistani men and boys shalwar kameez apart is that they typically use very light-weight fabrics which are highly comfortable while also being very durable and strong. They also come with subtle embroidery which adds a lush and traditional vibe while still being under-stated and elegant. Both classic and modern styles are popular in Pakistani men's fashion circles. While the traditional varieties which incorporate older silhouettes, conventional color combinations and intricate embroidery look great for ceremonies and festivals.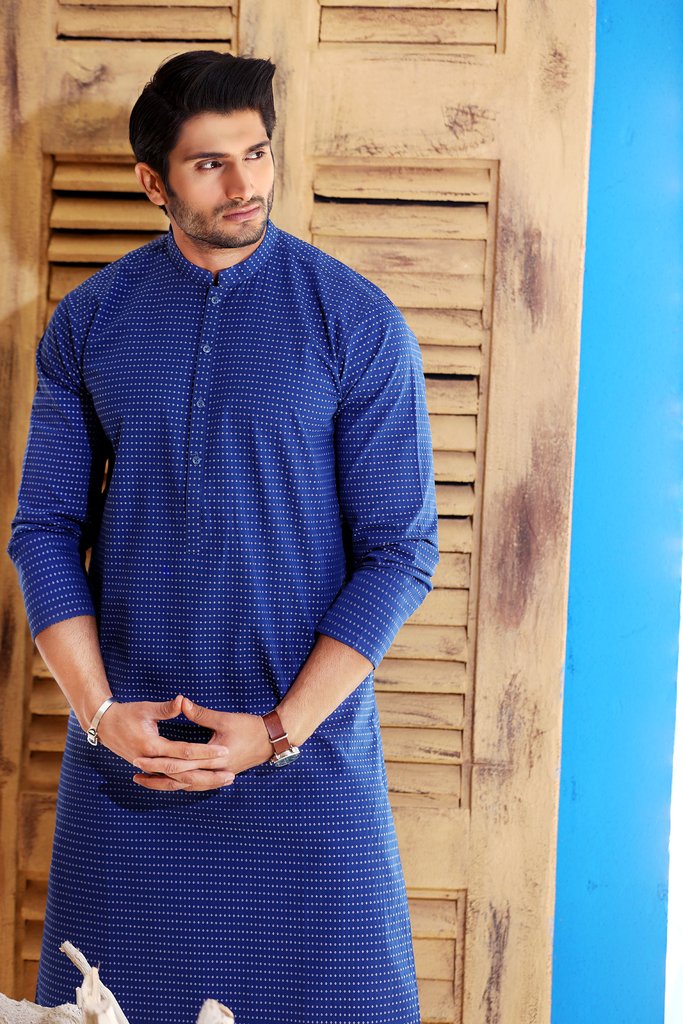 The younger generation may prefer the more modern styles which embrace new styles and present the perfect fusion of western and Pakistani designs. For Pakistani traditional men and boys clothing are more than just things to wear on your back; they are a representative of your status and importance. So wearing well-tailored, luxurious outfits gives off a vibe of affluence and distinction.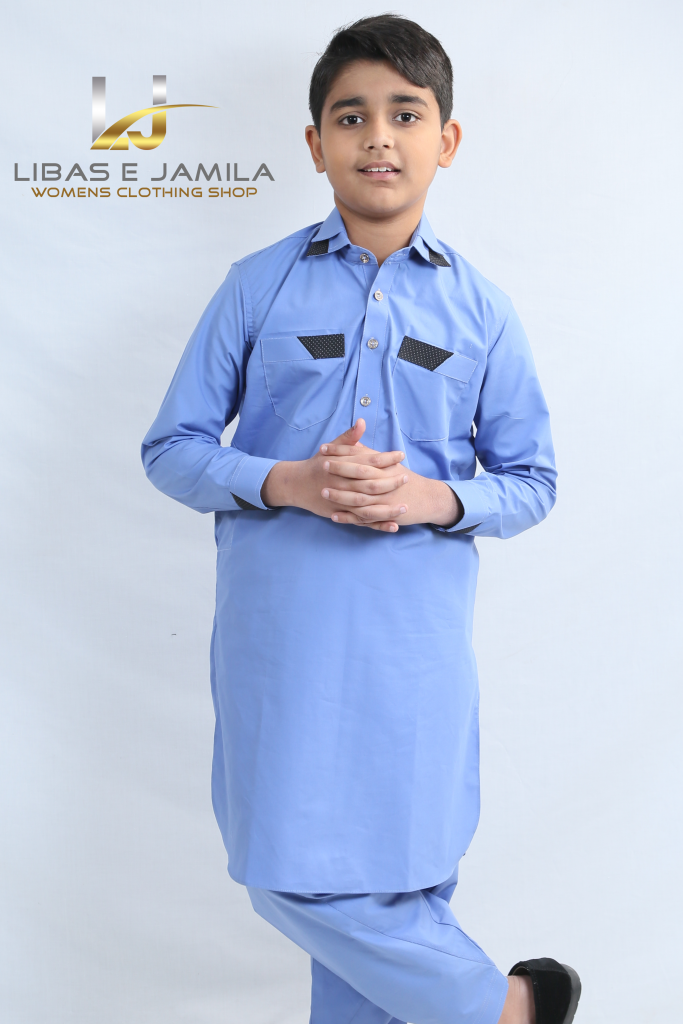 Diverse Collection of Men and Boys Clothing
South Asian men have substantially less choice when it comes to dressing up for a wedding or wearing a nice outfit to an event. However, the choices that they do have – such as the ever-elegant sherwani – are effortlessly fashionable. For boys kurta pajama is the best choice. Across India and Pakistan, men's jackets are used for daily wear and formal occasions. Politicians wore tailored jackets that differed in material and cut from the loose-fitting, white kurta. Buttons were soon introduced to the jacket as it became a part of proper military attire in 1970s India, as a form of the sherwani.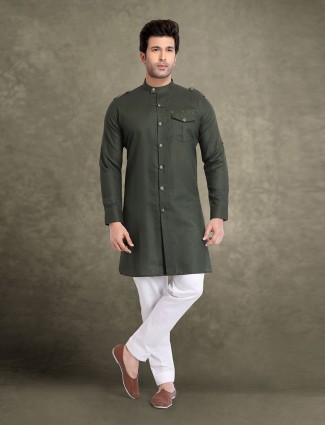 Typically, the kurta is worn in villages or lower class communities that do physical labor. Men who work in any professional environment wear a Western button down shirt with slacks instead of the traditional kurta or Indian jacket. The cheapness and versatility of the cloth makes it ideal for labourer attire. However, men's jackets are worn frequently during wedding ceremonies, albeit in a more embellished form than the white cotton ancestor. Unlike sherwanis, kurtas are shorter and more casual, so they can be worn to mehndi events, pujas, or lunches and dinners.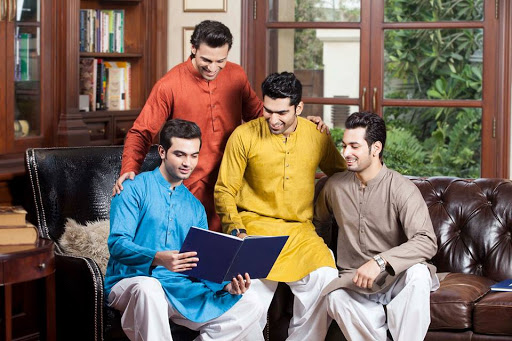 A wedding kurta is worn by grooms to more casual events such as the mehndi, pujas, and lunches. The kurta is always white or cream when worn to religious events, but it may be darker in color for more dressed up occasions. Beading and embroidery, as well as shiny fabrics such as silk, will decorate the kurta to suit formal wedding attire.
Asian dresses and fashion are a very diverse collection of traditional clothes. They really reflect the culture of the region and have something for everyone. No matter what choice or taste of clothing you have, you will definitely find something that you love in this wide range of gorgeous clothing items.
Asian Fashion for Men and Boys
Men usually wear waistcoats and coats on shalwar kameez on formal events. Pajama and kurta is the most classy dress of men that can be worn with khussa, Peshawari chappal and kolapuri chapel on events like mehndi and Eid. Now a days banarsi fabric is not only used in women clothing but also men dresses. The waist coats are made of banarsi fabric that can be worn on different wedding events paired with one tone shalwar kameez or kurta pajama.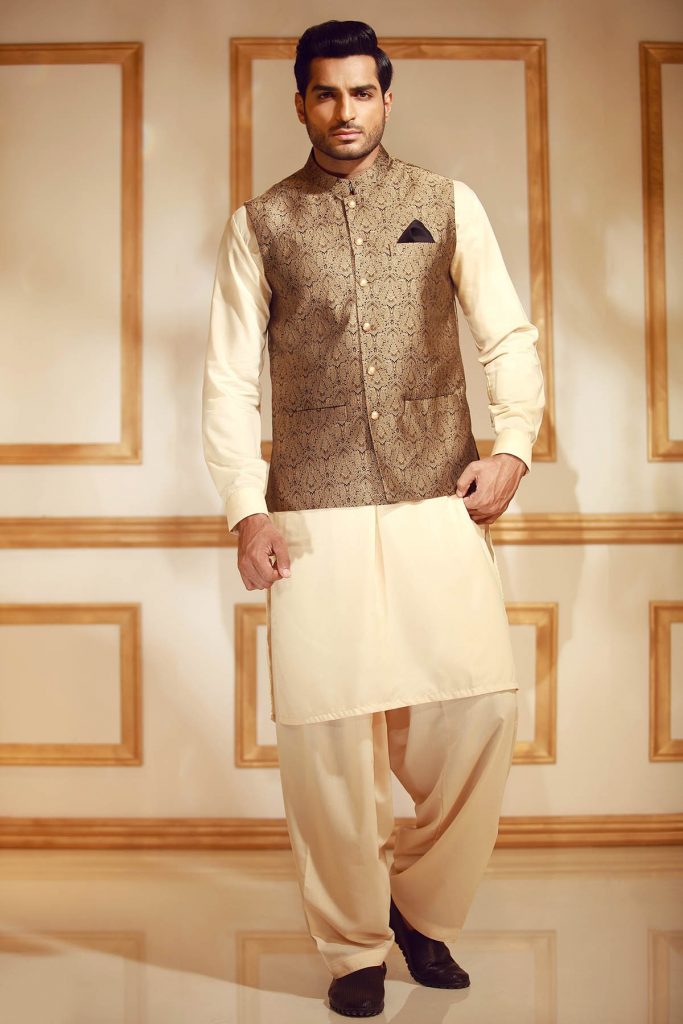 The banarsi shawls with tussles on the ends are very inn in Asian fashion that looks super classy when paired with black shalwar kurta. Some of the men also wear banarsi pajamas with straight kurta od f different fabric with khussa and that looks elegant too. nothing goes out of fashion, there are just some alters to the old with new trends and that turns out to a new different thing.
Conclusion:
The Pakistani mens and boys clothing fashion trends are different and developed a lot over lots of decades, with new tendencies seen globally the traditional clothes styles are affected too by the worldwide tendencies. The effect is found in a great deal of aspects from crochet patterns, stains to motifs to stitching cuts to forms of substances. These new tendencies and evolution of amazing designs of the outfits has the worldwide audience.