Like any home accessory or decorations, choosing the right curtain needs careful deliberation as it gives a significant effect on the overall interior design of your home. In customizing your curtains you have most especially considered the type of fabric in making custom curtains. Here are the 14 best fabrics for the trade to make curtains to inspire you in your thoughts of customizing curtains. The range of fabrics will be for sheer curtains and regular curtains.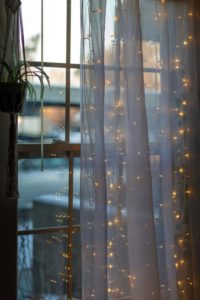 Sheer Curtains
If you opt for aesthetics over the function of the fabric, this is recommended. Most use this type of fabric as an inner layer curtain and are not used alone. It is usually incorporated with a heavier or thicker curtain or a cover layer due to its think transparent characteristic. This is good for filtering light as well as providing enough privacy for your home. Voile, Lace, Nylon net, Eyelet cotton fabric, Muslin, and Gauze are range of fabrics that is commonly and good to used as sheer curtains.
Voile
This fabric allows enough light inside with its very fine surface, lightweight, and sheer characteristics. The range of fabrics for this type of curtain is usually 100% cotton. However, it is versatile enough to be polyester.
Lace
This type of curtain is expensive but can be used as a sheer curtain. The revealing weaves of the fabric allow the function of the curtain to be maintained.
Nylon net
Making a curtain out of a nylon net is inexpensive if used as a sheer curtain. It may not be fine like voile, but its construction is knitted.
Eyelet cotton fabric
This is an open weave fabric where small eyelets envelop the fabric.
Muslin
Despite not being as sheer as the others mentioned, this is a think cotton fabric is actually inexpensive and lightweight enough to make this as a sheer curtain.
Gauze
This fabric has an open weave look that is super sheen fitting for making curtains with an 8 construction wrapper with two yarns twisted around weft yarn.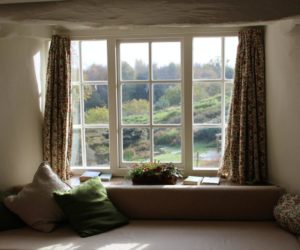 Regular Curtains
If you opt for thick curtains that offer total privacy and a great drape that falls gracefully, this type of curtain is also known as decorator weight fabrics or drapery weight fabrics in some stores. The following are range of fabrics for regular curtains: cotton, synthetic fabrics, linen, silk, velvet, damask and brocade, synthetic blends, and lining material.
Cotton
This weight material is popular as some serve aesthetics. Moreover, once the fabric is line drapery weight cotton fabric, its strength, durability, and look are increased.
Synthetic fabrics
Synthetic fabrics are made usually of polyester or nylon which makes it an inexpensive option for curtains. The fall of this fabric looks good and is also sturdy enough. It resists wrinkling despite the fact that it is lightweight than cotton drapery fabrics that make it easier to wash and drape.
Linen
This is a common type of fabric for curtains that suits drapery fabric due to its durability, strength, thickness, and maintains the elegance you prefer. One disadvantage of this range of fabrics is that the wrinkling process is fast and some hang stiffly.
Silk
Curtains made of silk provides luxury feels due to the luminous and beautiful face it offers. The thing about silk fabrics is that its color fades whenever directly exposed to sunlight. Therefore if the location of your curtains isn't exposed to sunlight, this fabric can be sued. Most silks should be dry cleaned only which can cost you more.
Velvet
This type of fabric is very luxurious which makes it inevitably expensive. If your desired location for the curtain is in a cold environment, this type of curtain keeps the cold out because of its heavyweight and material.
Damask and brocade
The range of fabrics of damask and brocade is filled with patterns such as floral which makes it specialty drapery fabrics. It can either be from the material of cotton or silk fibers that is both luxurious and very expensive.
Synthetic blends
This type of fabric is a combination of good quality synthetic and cotton/linen silk fabrics. Synthetic blended fabric is not recommended for kitchens due to its quality of being able to catch fire easily. Moreover, this type of fabric is best for the smallest windows and provides goo fall that stacks nicely.
Lining Material.
This material allows protection from sun rays and provides complete privacy to the different range of fabrics. It is best to use dark colors of lining fabric for dark curtains.
All in all…
In light of creating customized curtains, it is important to weigh or balance the factors needed to consider in regards to the material that will be used in the creation of your desired curtain that does not neglect the comfort, functionality, aesthetic, and budget of your home.